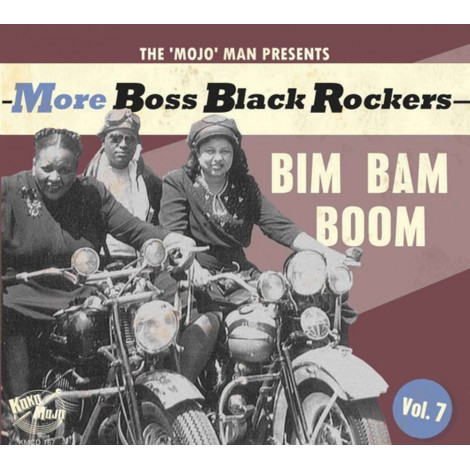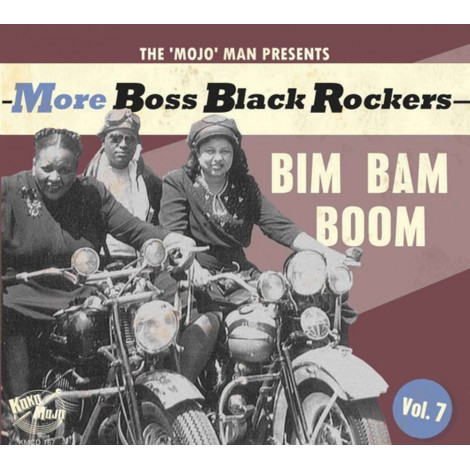  
More Boss Black Rockers Vol.7 - Various
Référence: KMCD167
More Boss Black Rockers Vol.7

"Bim Bam Boom"
CD 28 tracks - Koko Mojo Records
Mise en ligne: 07/04/2023
Country: Europe

Date: 10 Mar 2023
Label: Koko Mojo Records - KMCD167

Format: CD compilation

Artist: Various

Title: More Boss Black Rockers Vol. 7 - Bim Bam Boom

Style: Rock & Roll, Rhythm & Blues Boppers

Tracklist
01. Willie King: Peg Leg Woman
02. Sandra Grimms: Hallelujah Rock And Roll
03. Percy Welch: Nursery Rhyme Rock
04. Chuck Higgins: Looking For My Baby
05. The El Dorados: Bim Bam Boom
06. Wade Flemons: The Angels Will Tell You
07. Professor Longhair: In The Night
08. Little Willie John: Look What You've Done To Me
09. Lloyd Price: Baby Please Come Home
10. Lorin Dean: Fi Fo Fum
11. Ray Liberto: I Want You To Love Me Tonight
12. The Carter Brothers: I'm Not To Blame
13. Hank Moore: Part Time
14. Ray Scott: Silk, Satin And Lace
15. Huey "Piano" Smith: Well I'll Be John Brown
16. Jimmy Breedlove: Oo-Weee, Good Gosh A-Mighty
17. Young Jessie: Mary Lou
18. Fats Domino: Wait And See
19. The Nite Riders present Melvin Smith: Nobody's Fault
20. Crook Jnr.:    Wiggle It Baby     
21. Ernie Fields: The Dipsey Doodle
22. Little Richard: He Got What He Wanted
23. Shirley & Lee: Rock All Nite
24. Junior Wells: Can't Live Without You Baby
25. The Contours: Move Mr. Man
26. Chris Powell And The Five Blue Flames: Rock This Joint
27. Clyde McPhatter: Ta Ta
28. Curley Hamner: Twistin' And Turnin'
Vous aimerez aussi...
More Boss Black Rockers -Vol.6

"Everything's Cool"
CD 28 tracks - Koko Mojo Records
16 autres produits dans la même catégorie :