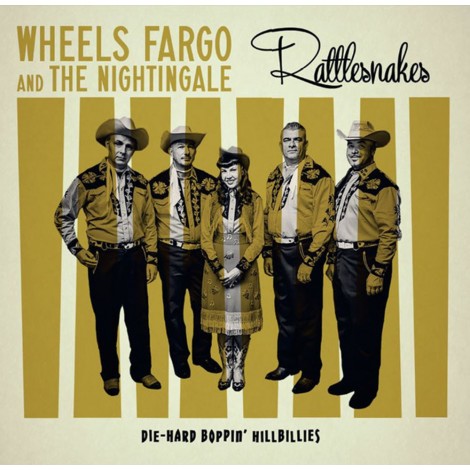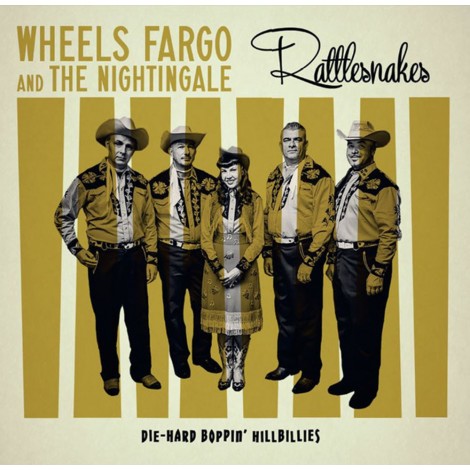  
Wheels Fargo And The Nightingale
Référence: Part-LP 379.007
Wheels Fargo And The Nightingale
Rattlesnakes

Vinyl LP10" 33rpm + CD - Part Records
Country: Germany
Date: 2019

Label: Part Records ‎– Part-LP 379.007

Format: Vinyl LP10" 33rpm + CD

Artist: Wheels Fargo And The Nightingale ‎– Rattlesnakes

Title: Rattlesnakes

Style: Honky Tonk, Hillbilly, Rockabilly

Tracklist:
A1. Rattlesnake
A2. Hey Sheriff
A3. Love Me
A4. Vinyl Max
A5. Hey Little Mama
B1. Bill Baley
B2. Bitter Feelings
B3. Boo Hoo
B4. We Are Coming Gio
B5. Go Way Houndog

Notes:Wheels Fargo and the Nightingale, a historic Italian band known around Europe,from east to west,for over 10 years for its unique hillbilly-western swing and bluegrassstyle, at the end of 2016 changes line-up and sound.
Going against the current and anticipating trends has always been a strong feature of the band, and following the arrival of two new members,the desire to inflame the sound has taken over, inserting for the first time a drum kit, thoughminimal, two electric guitars and lap steel. The new sound is oriented towards a tougher boppin'hillbilly, marked by pressing rhythms and harmonized duets on the wave of the early obscure vocal rockabilly (Rusty and Doug, Cliff Johnson, the Barker Brothers, Larry Phillipson).
The combo made its debut at the Hillbilly Hoedown Weekend #5 (UK) 2016 but the new sound was definitely celebrated on the stage of the Good Rockin' Tonight #15 (France) in the 2017 edition with an explosive reception.
In 2019 will be released on Part Records the new LP 10" on vinyl ' Rattlesnakes' with two original songs, preceded by a minitour in the London area.
See ya later rattlesnakes!
The Band:
Antonella the Nightingale - leadvocals
Wainer Fargo - double bass and vocals
Mauro Jimmy Wells - guitars and vocals
Vittorio Sammarini 'lo Gio' - guitar and lap steel
Snare Drum Memphis - on the beat
---
Vous aimerez aussi...
10 Pochettes souples polyéthylène LP 25 cm
Rockin' Bonnie Western Bound Combo
Keepin' The Reins Slack
Vinyl LP12"  El Toro Records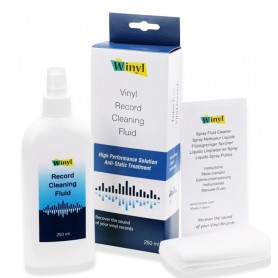 Spray Nettoyeur pour vinyle 
Recupérez le son de vos disques vinyles
16 autres produits dans la même catégorie :