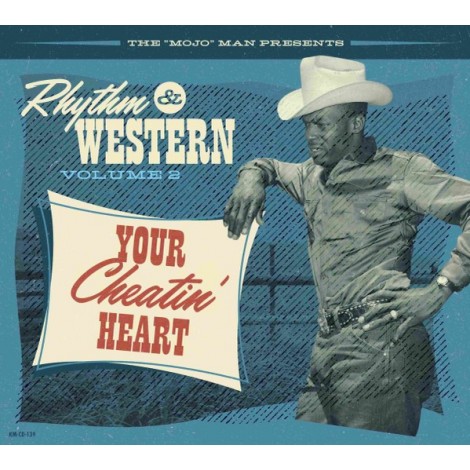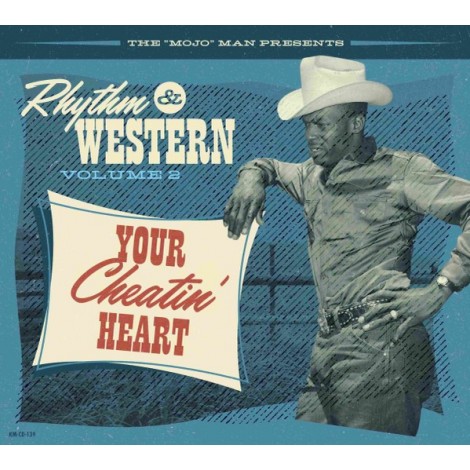  
Rhythm & Western Vol.2 - Your Cheatin' Heart
Référence: KMCD139
Rhythm & Western Volume 2
Your Cheatin' Heart - Various
CD 28 tracks - Koko Mojo Records
Country: Europe
Date: 2022
Label: Koko Mojo Records
Ref.: KMCD139
Format: CD compilation, 28 tracks
Artist: Various
Title: Rhythm & Western Volume 2 - Your Cheatin' Heart
Style: Rock & Roll, Jump Blues, Rhythm & Blues


Tracklist:
01. Clyde McPhatter/ I'm Movin' On
02. Joe Liggins And His "Honeydrippers"/ Whiskey, Women & Loaded Dice
03. Damita Jo/ Jambalaya (On The Bayou)
04. Ike & Tina Turner's Kings Of Rhythm/ Going Home
05. Bobby Hebb/ Night Train To Memphis
06. Lou Rawls/ If He Holds Your Hand
07. Mabel Scott/ Catch Em Young, Treat Em Rough, Tell Em Nothin'
08. Cecil Gant/ Goodnight Irene
09. Billy Bland/ Uncle Bud
10. Little Mack/ Let Hootenanny Blues (Out Of Jail)
11. Brook Benton/ Got You On My Mind
12. Ray Charles/ It Makes No Difference Now
13. Ivory Joe Hunter/ I Almost Lost My Mind
14. The Lovers/ I Wanna Be Loved
15. Richard Berry And The Pharaohs/ You Are My Sunshine
16. Lazy Lester/ I Hear You Knockin'
17. Esther Phillips/ Am I That Easy To Forget
18. Arthur Alexander/ I Wonder Where You Are Tonight
19. Eartha Kitt/ Long Gone
20. King Curtis/ Your Cheatin' Heart
21. Jimmy Beasley/ Don't Break This Heart Of Mine
22. Willy & Ruth/ Farewell
23. The Soul Stirrers/ Wade In The Water
24. Hank Ballard & The Midnighters/ Excuse Me (I've Got A Heartache)
25. "Little" Esther Phillips/ Why Should We Try Anymore
26. Elton Anderson/ Humpty Dumpty Heart
27. Ruth Brown/ I Burned Your Letter
28. The Big Three Trio/ Cigareets, Whuskey & Wild Women
---
Vous aimerez aussi...
Rhythm & Western Volume 1
When Two Worlds Collide - Various
CD 28 tracks - Koko Mojo Records
16 autres produits dans la même catégorie :