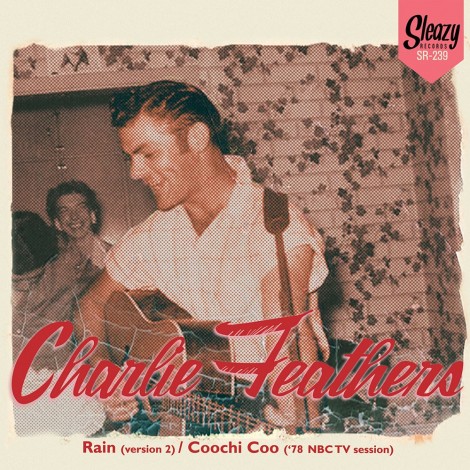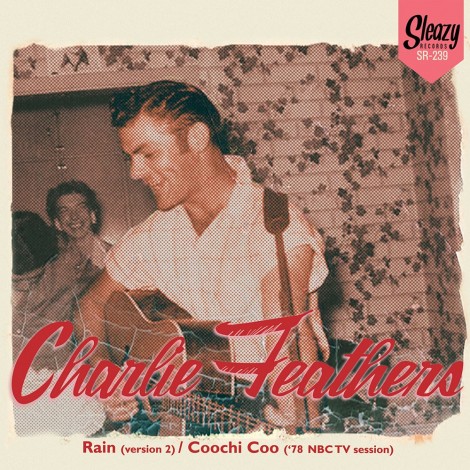  
Charlie Feathers
Reference: SR-239/240/241/242
Charlie Feathers

Unissued & Alternative takes

Set of 4 Vinyl singles + postcard Limited - Sleazy Records
Country: Spain

Date: July 2021

Label: Sleazy Records
Ref.: SR222 - 223 - 224 - 225

Format: 4 Vinyl 7" Limited

By placing the four covers on the back side, you set up a complete photo.

Artist: Bob Luman & His Shadows

Style: Rock'n'Roll, Rockabilly

Tracklist:
Record one:
Ref: SR222
A1. This Is The Night
B1. All Night Long (from the Carnival Rock Soundtrack)
Record two:
Ref: SR223
A1. Wild Eyed Woman
B1. Amarillo Blues
Record three:
Ref: SR224
A1. Your Love (1st take)
B1. Make Up Your Mind (1st take)
Record Four:
Ref: SR225
A1. Bring Along Your Lovin'
B1. Blue Days, Black Nights

By placing the four covers on the back side, you set up a complete photo.
See on our images the result of placing the four backs!!!!!
---
Note: In September 1978, Charlie Feathers, along with his son Bubba on guitar and Pee Wee Truite on double bass, recorded a special programme on NBC TV in Houston, Texas, where he played several of his classic songs in the same way he did in the 1950s: without drums and with all the mojo of the original rockabilly.
That recording has the same essence as his tracks 25 years earlier on Meteor or King Records, so much so that they could pass for alternate takes of some of his hits, or newly discovered original cuts, and, although they have been released several times on LP and CD, they have never been pressed on 45 rpm single.  Until now.
Sleazy Records collects 6 of those tracks and releases them in a deluxe 4 x 7" collection, including a postcard inside each one, and making with the back covers an original puzzle of Charlie and his band in the late 70's.
The four singles are also completed with Charlie's legendary cover of Hank Thompson's WILD SIDE OF LIFE, recoded in 1969 at Judd Phillips' Select-O-Hits studio in Memphis with his old Sun Records colleagues Marcus Van Story and Ramon Mauphin, and the second version of RAIN, recorded with Bubba Feathers in the early 70s.
A deluxe package that brings together eight fantastic rockabillies that certainly deserved to be released in this format.
You will like also...
10 Clear Plastic LP Outer Sleeves Vinyl 7" Record Album Cover
16 other products in the same category: